"At the beginning of the 1960s, Ivano Costantini moved from Rome to London to join his father, an established antiquarian, and to undertake this experience that lasted a lifetime.
After countless international experiences, in 2000 the Telearte company was born in Rome, with the intent and mission of getting to know and proposing antiques to the general public of commercial television through the instrument of informative teleshopping.
Furniture, paintings, jewels, objects and works of art that tell of ages and people. Then with the contribution and the profound experience of our collaborators, experts in the field, with proven competence, we are continuously active and looking for commercial initiatives concerning the world of art. "
"The last Don Quixote"
Telearte is the natural transposition on TV, and now on the internet, of the over ten-year experience of a man who has chosen to be one with the objects of art and with what they represent, that is the testimony of a past time, loads of meanings that become a sign of conscious change.
Ivano Costantini has been defined by some as "The last Don Quixote"; in fact, like the character of Cervantes, he becomes a real hero, after being derided and considered insane by many, he has never given up. Born and raised in the alleys of central Rome, where he could breathe the air of the old shops of important antique dealers, he arrived in London at the age of sixteen, following in his father's footsteps. His path, made up of encounters and events bordering on the romance, was undoubtedly enriched by his innate "flair" in discovering small art treasures.
After crossing half the world, he returns to Rome and, accompanied by his "steed", decides to embark on a new adventure in still unexplored spaces. It was the late seventies and Italy was a country in full growth. This man sets himself a goal: to make people discover art and make antiques known on television. He refuses to live in a world where there is no knowledge, because wandering around the world, and filling his eyes with that beauty that speaks to the soul, he has satisfied all his senses thanks to the muse par excellence: Art. And so its goal and its sole purpose become the search for a means through which others can also find the space to dream, search and create a new world, to be discovered and reinvented. Now is the time to invent this new world: draw its outlines, imagine its sounds and create its colors. It is the dawn of the sale of antiques on TV. This was, is and will be his greatest, elusive and illusory dream, the revenge of the human need to love and transmit sentiment through an object that becomes a concrete example of ephemeral and total beauty, fighting, like Don Quixote, against windmills of a world that deflects understanding.
Watch the presentation of the company's CEO.
Ivano Costantini, coming from a family of antique dealers and co-founder of Telearte, tells …
Over 60 years of history in the antiques and ancient art market …
Telearte has been present on TV for more than 20 years through teleshopping
Ivano Costantini
CEO and Senior Manager
Co-founder of the company, for years he has had a deep knowledge of antique silver that binds him to the high antiques market. The secrets of this profession have been handed down from father to son, and his knowledge has traveled the streets of Rome, London, New York, places where Mr. Costantini was able to work, grow professionally and collaborate with big names in the sector. Returning to Rome at the beginning of the 2000s, he decides to channel his working knowledge into "Telearte", a company still leader in the Italian art market. Over time he has proposed a television channel dedicated to antiques telesales, and has come to propose quality objects in the antiques sector every day. Over the years the company has managed to reserve a decidedly important daily appointment for the public; it ranges from antique jewelery to the signature of recent jewelery, from antique silver to modern ones, antique paintings of great value up to the presentation of rare objects of the past with great historical value. All managed and told by a consolidated team of collaborators, Italian and foreign, of proven experience and professionalism that over time have allowed Telearte to establish itself in its sector and to take a look at the international market.
Victorian & Albert Museum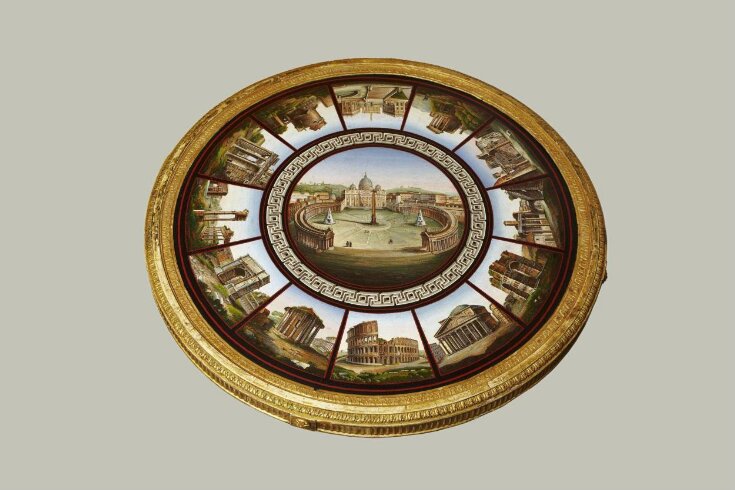 A circular micromosaic tabletop with a central round view of St. Peter's Basilica at the Vatican in Rome showing the outstretched collonades of the Bernini designed Piazza di San Pietro, the scene framed with a Greek key pattern border and surrounded by twelve more rectilinear scenes of ancient Roman structures. The table's gilt border is carved on top with double rows of egg-and-dart pattern, and fluted on the sides between four rosettes. The partially gilded pedestal base is composed of three intertwined dolphins, their heads resting upon a tripod plinth with scrolling acanthus feet.
Object history note
Provenance: Ivano Constantini, Rome, 1975.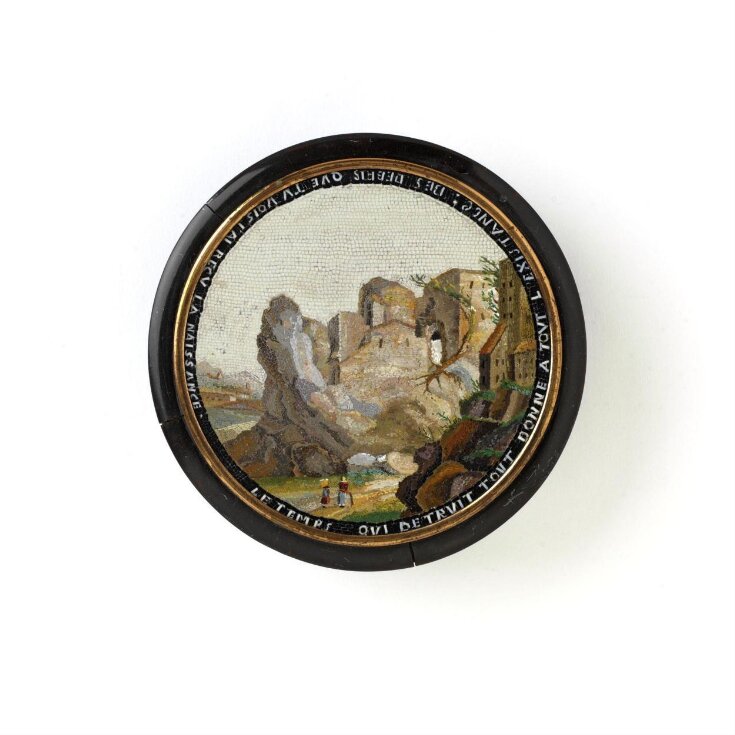 Round tortoiseshell box, the cover set with a circular mosaic depicting a large rocky mountain supporting wispy foliage, two figures on a road in the foreground and on the right a smaller mountain with structures on top of it. When turned 45 degrees anti-clockwise, the image appears as a man's face, the foliage forming his hair and eyebrows. Around the border of this image is a French inscription in mosaic.
Object history note
Provenance: Ivano Constantini, Rome, 1975.
http://collections.vam.ac.uk/item/O157761/bonbonniere-unknown/
Telearte was born following a family tradition of antique dealers. The founder Ivano Costantini grew up in contact with the realities of the antique shops, spending his childhood in the business of his father who moved to England.
Telearte was born therefore from the passion for the "beauty" transferred from art objects and antiques with a keen eye also for the precious ones.
Telearte's intent is to be the reference point in Italy for the trade of antiques and precious antique and vintage items. We intend to do this by offering always valid proposals and always taking the care and needs of our customers in the foreground: we offer advice on everything related to our proposals and valuables, activating services that today are ever closer to current needs. No less important is the collection of Roman micromosaics, mostly from the Reverend Fabbrica di San Pietro.
Jewelry
Wide selection of exclusive jewels for every kind and price, specialized in antique jewelery, dèco and liberty, jewels of the nineteenth century, of the twentieth century to get to vintage. There is no shortage of big names in international and Italian jewelry.
Telearte is your trusted jewelry: on our site you will find a wide selection of exclusive jewelry for every kind and price. Our experts will be able to advise you on the purchase of the jewel suitable for every need, so we recommend that you rely on one of our consultants by making an appointment via video call by booking it here.
Antiques
This is the most consistent sector which, together with silverware, represents the type of goods most offered. Silver, western and oriental art objects, porcelain, furniture, sculptures, furnishing accessories. Of great interest is our collection of ancient corals with objects from important manufactures in the Trapani and Sciacca area.
Silverware
Undoubtedly silverware and antique silver are the type of goods that have always distinguished the work of Telearte. The experience and attendance of foreign markets has always favored the procurement of "right" silver objects to be offered to our public.
Paintings
Great tradition also in the proposal of ancient paintings and visual arts up to the twentieth century, with particular attention to seventeenth-century Italian and Flemish painting.
Antique ivory objects and sculptures
The collection of ivory sculptures and objects is certainly noteworthy, with pieces of both Eastern and Western derivation.
Oriental carpets
This sector is also of considerable commercial importance given the demand and attention of the public regarding this article.