*Art Nouveau at the end of the 19th century*
Within the general framework of Art Nouveau, which "exploded" towards the end of the last century with a vitality that involved the entire panorama of plastic and applied arts, jewelry represented one of the most congenial forms of expression for the practical application of the new theoretical axioms.
One such dogma was the return to nature, and at the same time the use of new techniques, made possible by the onrush of progress or even by these artists' own research.
As with all other art forms, a basic stylistic unity manifested itself in jewelry, particularly referring to the freedom of sinuous lines, which we find from France to England, from Sweden to Austria and Germany, despite precise differentiations especially in the use of materials and the rigor of the work. It seems to us, however, that the French landscape, again, is the richest and most representative, and should therefore be examined first.
As a point of reference, we can take the 1895 exhibition in Samuel Bing's Art Nouveau Gallery in Paris, which met with great favor among the Parisian public, whose taste, already predisposed by a certain then-fashionable collecting of Japanese and Oriental art, was suffering from a widespread weariness of increasingly pedestrian imitations of classical goldsmithing. The exhibition represented a kind of official "celebration" of this style, recognized precisely as ART NOUVEAU.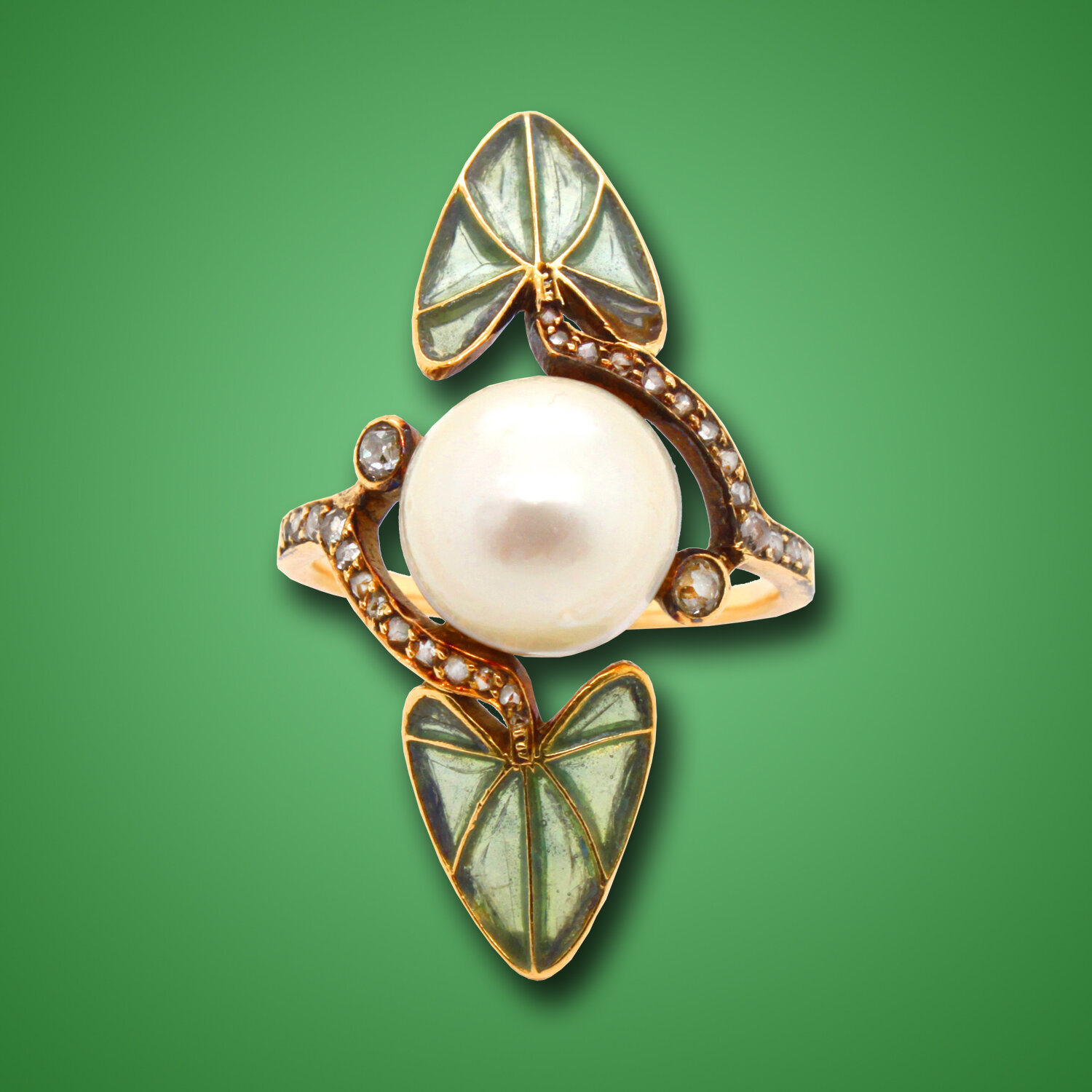 Of all the artists who tried their hand at French Art Nouveau jewelry, René Lalique was the undisputed genius and the great innovator, his jewelry making the best use of the lightness of the new "whiplash" line and experimenting with the use of glass and "Plique a jour" enamels alongside traditional goldsmithing materials and gemstones with increasing success.
He thus arrives at spectacular and yet still refined results, never falling into the repetitive or the banal when he creates jewelry that is small sculptures on the themes of the dragonfly, the swallow or the peacock, the ear or the orchid, female figures or chimeras, motifs very dear to Art Nouveau and Symbolism.
F.C.
You might like to consider a proposal relevant to the topic covered in this post.
Telearte is online antiques, present for many years in the trade of antique art and jewelry. Telearte is also online antique auctions.
Follow us on our social networks: Facebook, Youtube, Instagram.